Verdict – Though Nikon D5600 is a little pricey but it is the best Dslr camera under 50000 Rs range, D5600 has all the needed features a dslr should have under the 50,000 price range like large size sensor, SnapBridge and easy to use user interface, light and compact body, high ISO range are some genuinely useful differentiators among its rivals which makes it a best dslr under 50k and an excellent option for photography enthusiasts.
Which is the Best DSLR Camera Under 50000 in India 2022?
▼ Show Contents
Nikon D5600: Best DSLR Camera Under 50000
Last update on 2020-09-15 / Affiliate links / Images from Amazon Product Advertising API
Kit Options for Nikon D5600
– 18-55mm AF-P f/3.5-5.6g VR Lens + Nikon D5600 + 16GB card and Camera Bag | Flipkart under 36,000 Rs
– 70-300mm AF-P f/4.5-6.3G VR + AF-P 18-55mm f/ 3.5-5.6g VR Lens + Nikon D5600 + 16GB card and Camera Bag | Flipkart under Rs, 47,000
– 18-140mm AF-S f/3.5-5.6G ED VR Lens + Nikon D5600 + 16GB card and Camera Bag | Flipkart under Rs, 48,300
What's new in D5600
Major updates to its predecessor Nikon D5000:
Bluetooth & NFC to connect with Nikon's Snapbridge app.
Remote control & release via Bluetooth and the Snapbridge app, but doesn't works with infra-red remote anymore.
Improved touchscreen, quick switching and cropping of images.
Depreciated 640 x 424p video mode; only 1,080p and 720p available.
Timelapse movies.
No analog NTSC/PAL video output.
Better Connectivity
Once you connect Nikon D5600 Bluetooth to free SnapBridge app on your smartphone, JPEG images can be automatically transferred in bulk from the D5600 to your smart-device or you can select individual images to transfer at full size (but JPEG-only).
SnapBridge uses Wi-Fi to transfer movies wirelessly, and to capture still images via remote. So, you can use your smartphone as a remote to control the camera.
Performance and Image Quality
5fps continuous shooting
820-shot battery life
SnapBridge needs work
ISO 100-25,600
Creative Effect modes
No low-pass filter
39 points(9 cross type)
Nikon D5600's 24MP sensor captures much detailed, natural looking and sharp images in comparison to other best DSLR cameras under 50000 Rs. Due to no anti-aliasing it produces false color in high contrast scenes. So, you might need to dial in some negative exposure compensation to regain shadow detail and retain highlight detail in post-processing if required.
The D5600's auto white balance performed good in a range of lighting conditions due to its desirable ISO range, JPEG colors are vibrant and bright. Skin tones are quite pleasing to eyes in comparison to other cameras under 50,000 rupees.
What makes it a best DSLR camera under 50000 Rs
Nikon D5600 features 39 autofocus points which desirably covers around the viewfinder. You can keep the track of the subject and its movement over the time around the frame, as well as towards and away from the camera with the help of its metering sensor to view the scene and identify the pointed subject.
Canon EOS 800D – Top DSLR Under 50000 Rs
Last update on 2020-08-27 / Affiliate links / Images from Amazon Product Advertising API
Image And Video Quality
Below sample images are taken by fine JPEG setting at 24 megapixels. As Canon is already famous for its pleasing and warmth color images, the images from canon 800D also stands up to our expectations with fine balance of warmth and saturation levels, which help image look more natural and real. No false colors makes it a best canon DSLR under 50000 Rs.
The overall details looks good with the normal sensitivity range, you would start too see some loss of details with 100% crop of Images at ISO 6400 but even images taken at ISO 12800 are easily useable like printing an A4 size image. If you are confused read what ISO is?

Dynamic Range Top ▲
Canon EOS 800D produced better dynamic range results than it's predecessors 750D/700D, nearly a full stop greater i.e 12.5 EV at ISO 100 than 11.6 EV of 750D's at same ISO.
Even at higher ISO ranges the 800D returned desired dynamic range outputs, such as 11.7EV @ ISO 200, 11.3EV @ ISO 400 and 10.4EV @ ISO 800. Beyond ISO 800D figures start to fall, with 8.5EV result @ ISO 3200 and 7.4EV @ ISO 6400.
Read more about dynamic range here.
Source: trustedreviews.com
Canon 800D Sample Images
Video Top ▲
Video is What makes 800D a best Canon DSLR under 50000 Rs. Obviously, we all know how much we love the Canon's dual pixel technology and that too is further improved in the Canon 800D and combined with the electronic video stabilization, it can not get any better for shooting videos under the price range of 50,000 rs.
The camera can be used for V-logging and while traveling without any hesitation. Although it is necessary to point out here that it only supports 1080p Full HD videos but not 4k video, Whereas, Canon M50 mirrorless supports 4k video. The 1080p Full Hd video is fast and accurate because it records at @ 60fps (in 750D it was @ 30fps).
And it also has a dedicated port for external microphone in addition to the two in-built stereo microphones at the face of camera body.
800D – Guided User Interface
Source: dpreview.com
The GUI feature is provided by canon to help first time DSLR users to understand the setting options, This feature can be switched on/off, when switched on it will give you brief animated information and practical advice of which setting does what as shown in above image.
For example, if you select the 'aperture priority' mode, the rear screen shows an intuitive slider graphic that displays info about the aperture range the aperture is currently set to, and what it will be helpful for or what this mode does "like it will say Blur the background" along with a brief guidance of what aperture value would best suit for this kind of image and how much it will blur the background in front of main object.
Canon 800D – Build and Design Top ▲
As Canon 800D has a compact body and a deep profound grip it can be easily strongly held with one hand with 3 finger wrapping inside grip and a thumb on outer grip.
Source: newatlas.com
Though the camera is not weather sealed, but inside the polycarbonate outer body (a plasticky look), layer of aluminium alloy chassis protects the internal chip and micro-electronics of the 800D. This provides ample protection against the nudge and shocks that a camera faces while traveling or photographing in its lifetime.
Canon 800D has a optical pentamirror viewfinder as of most other entry-level DSLR cameras that provides 95% scene coverage that means extra scene could come in the frame that you were orignally composing. Whereas these days entry-level mirrorless camera provides 100% coverage through electronic viewfinder under the same price range. To know more read about optical vs electronic viewfinder and viewfinder coverage.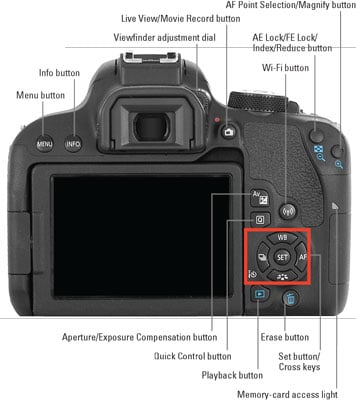 Below the viewfinder, the 800D features a range of main settings including ISO, aperture, shutter speed and a metering/exposure compensation bar.
Underneath main settings is 3″ 1,040k-dots vari-angle touch-screen LCD display screen. The Clear View II TFT screen is of great quality and shows clicked images with great clarity, showing vibrant colors and good balance of contrast while one can use the camera in Playback mode.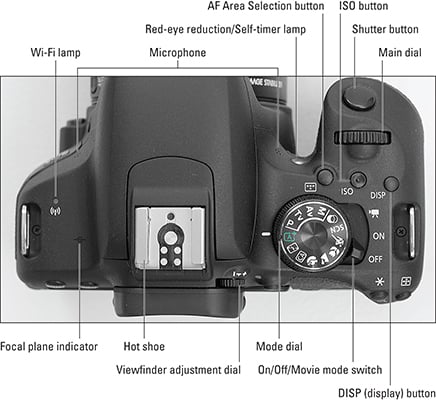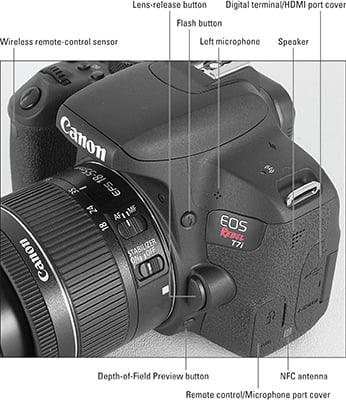 Source: Canon 800D/T7i Controls Cheat sheet.
Great Images with no noise
Canon 800D (Rebel T7i) uses the same technology as pro DSLR for noise reduction making it one of the best DSLR camera under 50000. DIGIC 7 chip handles 14 times more information than the Canon 750D's DIGIC 6 processor, which also helps in delivering reduced high-ISO noise performance and also an improved autofocus performance.
What makes 800D a best DSLR camera under 50000 Rs
With all-cross-type 45 AF points and 24MP Dual pixel sensor and 6fps burst shooting you can expect fast and accurate autofocus, AF points are more likely to lock onto its target it means that autofocus has become much better of already excellent autofocus of 750D, so you can capture all fast moving objects without moiré and with 45 AF points and Digital video stabilization video autofocus has also become far better than 750D.
800D produces excellent JPEGs color and competitive image quality even in low light due to its 100 – 25600 (51200 expandable custom setting). 800D is consistent in shooting through both, "optical viewfinder" or "live view, using the rear screen". This relatively seamless consistency means you can shoot using the rear touch-screen just as if it were a smartphone making it one of the best DSLR camera under 50000 rupees.
Beginner Friendly
Canon 800D has an option of switching to a new and friendly user interface that have got photos, features graphics and explanations that will help you to understand its functions and how to apply them practically in order to achieve the desired effect. The most interesting part is that Canon EOS 800D is compatible with even non-IS lenses making it to appear among the best DSLR camera under 50000 in India. The camera enables remote control for live view shooting and even the transfer of files with mobile device via pairing method. In 800D time-lapse movie feature has been added which was missing in 750D
Canon EOS 200D ii or 250D
Last update on 2022-10-25 / Affiliate links / Images from Amazon Product Advertising API
Difference between: Canon 200D ii VS Canon 200D
| Canon 200D ii | Canon 200D |
| --- | --- |
| 1070 Shots (Long Battery Life) | 650 Shots |
| 4k Video (3840 x 2160) | 1920 x 1080 |
| 120mbps Video bit rate for better video quality | 60mbps |
| Canon's first DSLR with Dual Pixel Eye Detection AF in Live View | None |
| DIGIC 8 | DIGIC 7 |
| No NFC | NFC: Yes |
| 449 g (Lightest DSLR) | 453 g |
Build And Ergonomic
High-quality knobs and dials.
Bright and Sharp Images.
Easy Screen navigation and information and tips clearly visible.
Selfie-friendly vari-angle screen, flip the rear screen out to use it at any angle.
It's live view photography beats the mirrorless cameras.
Rapid touch and autofocus response.
Performance
Not for motion photography or shooting sports and fast-moving objects that requires more than 9 AF points system.
It is for everyday photography can keep up to 5 frames per second continuous shooting speed.
It's 4k video feature makes it a best DSLR camera under 50,000 rupees.
Gets better in Live View mode, where Canon's latest Dual Pixel CMOS AF system helps in even more faster autofocus response.
Better noise level than canon 200D due to new DIGIC 8 processor.
Canon 200D ii clarity makes it the latest best DSLR Camera under 50000. Canon 200D ii, higher signal to noise ratio below 1600 ISO shows how clean images it produce with ease, even more than it's previous model Canon 200D, thanks to it's new DIGIC 8 Processor.
Where It's close competitor NIkon D5600 produces fine detailed images but slightly less clear than Canon 200D ii, but Nikon D5600 39 A.F points can't be neglected given at even a lower price.
Canon 200D ii Sample Images
Credit: Cary Rose
Who Should Buy Canon 200D ii/250D/Rebel SL3
Enthusiasts who have limited budget but don't want to compromise with image quality, wanderers, travelers, families and first-time photographer, those who have less knowledge of photography but want to take cool photographs anad want to explore photography as a hobby and want to learn some basic fundamentals of photography such as aperture, shutter speed and depth-of-field. It's very easy to use has built-in guidance.
It will also make a good camera for V-loggers and youtube video makers because it can record 4k videos and has a fully articulating touchscreen which is helpful in making vlogging videos and it also has a port for external microphone which can ensure best audio quality.
The Vari-angle touchscreen can help take low-angle shots like this below without getting down to floor.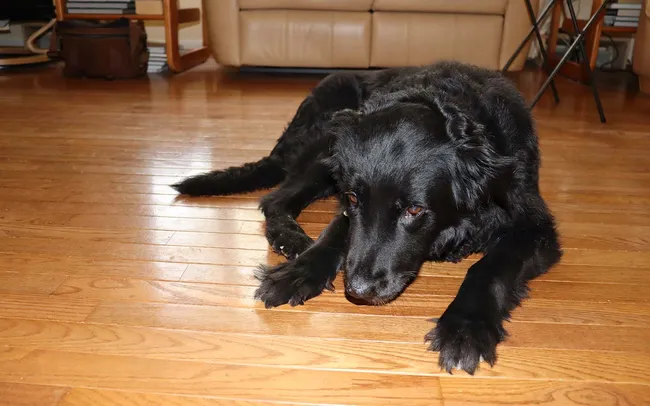 f/4, 1/200th sec., ISO 1600
Source: tomsguide.com
Canon 200D ii/250D Image Quality
The below picture is shot with 18-55mm IS STM lens and by slecting standard picture style setting, that just gave the right amount of saturation, sharpness and balanced vibrant colors.
One can try other in-built picture style settings from Neutral, Portrait, Auto, Landscape to tweak sharpness, brightness, saturation etc according to how they want to compose that image.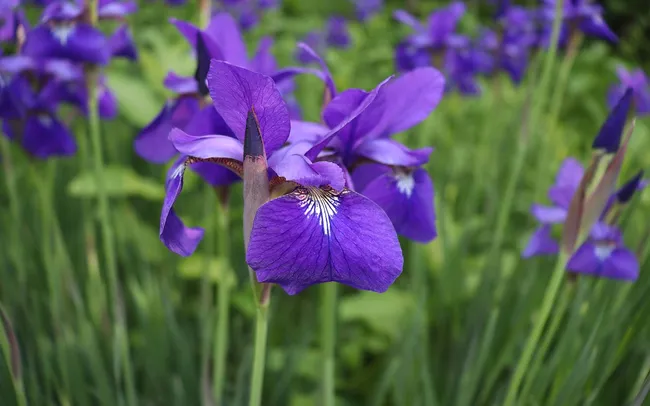 f/4, 1/200th sec., ISO 400
You can also use creative assist feature such as (speia, blue, etc) to your orignal RAW files to modify the saturation tone of image and can save them as new jpeg.
Canon 200D ii has 100-25,600 ISO range, if you want to capture images in low light conditions, it is experienced to keep it below ISO 3200 for best resuts until you are taking images in a very bad light condition and very dark place.
Canon 200D II ISO Noise Results

Source: imaging-resource.com
Canon EOS 200D II: Video
As already mentioned above 200D ii is the canon's 1st DSLR camera that can shoot 4k video under this price range but one thing to note here is that it's Dual Pixel AutoFocus system does not work with 4K video recording it only works till Full HD (1920 x 1080p).
And in Full HD you can record at 30p and 60p which is great for recording fast moving subjects but in 200D standard option of 24p was also available which is dropped in 200D II which is not a big deal.
Canon EOS 200D
Last update on 2020-09-15 / Affiliate links / Images from Amazon Product Advertising API
Perfect for beginners
Canon 200D also featured in our "Best Dslr under 40000 Rs" list. It is a perfect mini Dslr for beginners to easily pick and use without the application of traditional size of a DSLR. Thanks to its 3″ vari-angle selfie friendly LCD and touchscreen control, plus Dual Pixel AF for speedy on-screen autofocus, microphone port and simpler button layout compared to other DSLR cameras. Connect smart phones with built-in Wifi and NFC for seamless transfer of images or share them on social media. you can also use your smartphone as a remote to control Canon 200D.
Dual Pixel CMOS AF
In Live View mode, the EOS 200D (also known as rebel SL2) uses Dual Pixel CMOS AF which makes 80% (broader coverage than the viewfinder system) of the sensor area to become phase-detect AF points. It provides quick, seamless and responsive shift when switching back to taking pictures or switching the focus from one subject to another. But it also drains the battery.
When using the viewfinder AF system one can manually select which of the 9 AF points to use, or let the camera automatically select from them.
Canon EOS 200D is a great competitor when you are looking for best canon DSLR under 50,000 in India. It is one of the world lightest DSLR camera with a sensor of APS-C-C. Lovers for capturing fast moving objects now have a sign of relief with the coming of Canon EOS 200D since it has it has fastest AF speed at 0.03 seconds.
Canon 200D VS Nikon D5600

Top ▲ First-time users of Canon 200D should not be worried when it comes to an altering of the image because the camera has 3.0-inch Vari-Angle LCD touch-screen display that will assist them when changing setting such as the exposure compensation and aperture hence making it for first-time users to learn how to high photos.
Canon 200D also comes with built-in Wi-Fi, Bluetooth technology, and NFC for easy sharing hence making it one of the best Canon DSLR under 50,000 in India.
Canon 200 ISO Noise Results

Canon EOS 200D has got a shooting of 1080p MPER4/H.264 video at frames per second. Regarding speed, the camera uses DIGIC 7 image processor delivering high-speed with continuous shooting of up to 5.0 frames per second. Canon EOS 200D has ISO range of 100-25600 which is wide entry-level for best Canon DSLR under 50000 in India 2022.
Top ▲ It also has a viewfinder of 9-point AF system. The camera has 24.2-megapixel APS-C size CMOS sensor which will help you capture images with a flexibility of cropping images hence no compromising of image quality. It also reduces motion blur that is caused by slow shutter speed experienced under low light conditions. The camera also delivers smooth and great movies in full HD quality at 60p through the combination of Dual Pixel CMOS AF and Vari-angle LCD monitor.
200D Jpeg VS Raw Comparision

Canon EOS 200D is known for excellent color production making one of the best Canon EOS under 50,000 in India 2022. For those who don't like carrying large size and bulky cameras should be assured that this is one of the smallest best Canon DSLR under 50,000 in India 2022.
Top ▲ Canon EOS 200D comes with two years India warranty. You should not be worried about the color because it comes in three different colors that are white, silver and black. It sells @ Rs 43,900 on Amazon.
Canon EOS 750D
Last update on 2020-09-04 / Affiliate links / Images from Amazon Product Advertising API
Source: timeincuk.net
Worth the price
Canon 750D captures stunning images effortlessly for its provided price, hence it is the best budget dslr under 50,000 rs. The camera captures detailed , high-resolution and vivid images with perfect exposure and auto white balance (color) in any situation with no editing or processing required.
What makes 750D a best DSLR under 50000 Rs
The camera is capable of keeping track to fast moving subjects using its all-cross-type 19 AF point fast auto-focus system. If you have multiple objects in a photo you can set it to "auto AF-area" select mode and it accurately focuses on all the subjects automatically and tracks them very quickly making it a best dslr camera under 50000 price.
But it has no face recognition, so you have to assign AF points manually for people pictures and video autofocus is not as good as Nikon D5600.
Low light capable
Canon EOS 750D will allow you to take very memorable images even under low light condition due to its automatic flickering light synchronization and desirable ISO 100 – 12800 (25600 expandable) range and its speed-lite flashes and fast aperture lenses that ensures high quality and depth control images even if the flash is off.
When debating about the best Canon DSLR under 50000 to buy in India then Canon EOS 750D will be best for you because it has some fantastic features that will satisfy your needs. It has 24.2 MP COMS sensor that has a DIGIC 6 image processor that ensures delivery of high quality of images as compared to other entry-level DSLRs. When it comes to living views, it has 19-point all cross-type AF system and Hybrid CMOS III AF system that ensures quick autofocusing. It comes with lithium-ion battery LP-E17 which is rechargeable and with a battery capacity of 1040 mAh.
Source: imaging-resource.com
Top ▲Canon EOS 750D has essential and creative modes which effortlessly capture stunning images allowing you to take as much control as you like using its latest DSLR technology. Canon EOS 750D gives you a much-enhanced shooting experience using its intelligent viewfinder. Another interesting feature with Canon EOS 750D is that it takes excellent pictures even in low light intensity using flash since it has superior ISO sensitivity of up to 100-12800 which can also be expanded to ISO 25600.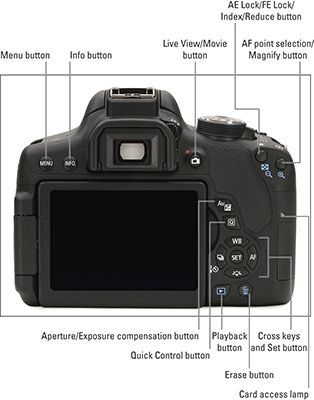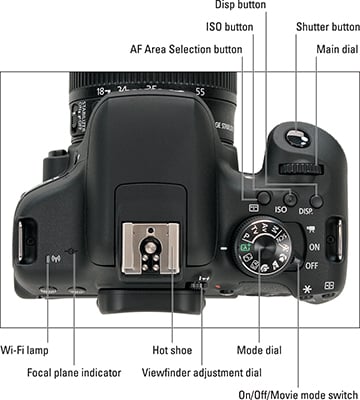 Source: dummies.com
Top ▲ For better results, you need to get familiar with both function and controls of your EOS 750D by regular exercises. Don't be worried about climate because Canon EOS 700D will shoot fantastic derailed full HD movies under any climatic condition allowing you to record your MP4 format for faster online sharing and more cooling transfer to any other desired devices.
Source: dpreview.com
Canon EOS 750D allows you to quickly connect and transfer images and movies to compatible tablets, smartphones, printers for easy sharing with social networks. In India, Canon EOS 750D comes with a two-year warranty and free transit insurance. It also has ten days replacement policy. Canon EOS 700D retails @ Rs 46,490 on Flipkart making one of the best Canon DSLR under 50,000 in India 2022.
Nikon D5300
Last update on 2020-09-15 / Affiliate links / Images from Amazon Product Advertising API
Different kit option for Nikon D5300
– 18-55mm AF-P f/3.5-5.6g VR Lens + Nikon D5300 + 8GB card and Camera Bag under 38,000 Rs
– 70-300mm AF-P f/4.5-6.3G VR + AF-P 18-55mm f/ 3.5-5.6g VR Lens + Nikon D5300 + 16GB card and Camera Bag under Rs, 49,000
– 18-140mm AF-S f/3.5-5.6G ED VR Lens + Nikon D5300 + 16GB card and Camera Bag under Rs, 49,000
Nikon D5300 has less features than the above cameras and can be bought under 40,000 Rs with single lens kit, but the reason why we also recommend it in best dslr camera under 50000 Rs is that it is one of the popular camera under 40,000 and if some of the above cameras feature are redundant to you or if you don't use those feature much, like if you are ready to sacrifice on touch screen you can buy an extra lens (AF-P DX 70-300mm f/4.5-6.3G VR) worth Rs 19,000 with Nikon D3400 dual lens kit.
Top Pick under 40,000 Rs
D5300 has a same 24MP high resolution sensor. So The camera is ideal for low light conditions hence suitable for both indoor and outdoor sho, you can just point and shoot grat readily detailed and true color high quality images. It produces great images with natural light and color condition due to its D-lighting function. Its 39-point Autofocus that is capable of locking and tracking your subjects even when they are moving and Its ISO range 100 – 12800 (25600 expandable) allows you to click desirable images even in low light and with extra 70-300mm lens aperture range increases ans so will your autofocus thus making it to feature among the best DSLR cameras under 50,000 Rs.
Sony Alpha A6000L
Last update on 2020-11-16 / Affiliate links / Images from Amazon Product Advertising API
What makes the A6000 a best dslr camera under 50000
Due to its 11 fps Continuous shooting you can easily capture fast moving subjects, If you combine 11fps with 179 AF points, it is the most super-fast and accurate focus camera under RS 50,000 but the catch here is that it drains the battery quickly.
BIONZ X processor produces real images with correct details and texture as seen by naked eyes. Sony Alpha A6000L will allow you to take memorable images whether you shoot video or stills and with lower noise. It has Wifi and NFC sharing images is as good as Nikon D5600. Sony Alpha A6000L will allow you to take sharp and clear images even under low light situations due to its ISO of 100-25600 range.
Sony Alpha A6000L Features among the best DSLR cameras UNDER 50,000 because of the OLED EVF feature that is responsible for the 100% frame coverage and wide field of view. It has a 4D Focus that envelopes the scene with a wide coverage area and focuses on subjects quickly even the subject is in motion by predicting its movements over time.
Sony SLT A68K
Last update on 2020-09-04 / Affiliate links / Images from Amazon Product Advertising API
Budget DSLR for advanced beginner
Sony A68K have got 79-phase-detection AF points and 8fps continuous shooting speed that keeps tracking of fast moving subjects and sensor shift image stabilization makes it more better by countering camera shake. It allows you to capture all the bright and reds shades of environment making to be one of the best DSLR camera under 50000 Rs. It produces minimal noise and high image quality. Shoot images with great colours and contrast with its OLED feature. But it has no time-lapse recording.
Sony Alpha A68K is known for beautiful portrait pictures and fast face detection. AF point ensures that the images produced are sharp since it focuses on the face by detecting on the eye that is on focus. The camera posses a control wheel and will allow you to quickly change the camera settings as you look at the viewfinder making it best DSLR camera under 50000 Rs.
Conclusion
In the end, it all depends on what your needs are, if you are looking for a best DSLR camera under 50000 in India 2022 with readily great image quality and reasonable video quality with compact body go for Nikon D5600 and if you want a dslr mostly for still photography then Canon 200D is the best dslr camera under 50000 for you. And if you are looking for a budget best dslr camera under 50000 Rs with fast and high speed action photography as a priority then go for Canon 750D.